July 14 @ 8PM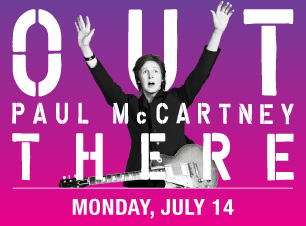 Description:
**ON SALE NOW**

A legend is coming to Lincoln.

Sir Paul McCartney, one of the world's most successful composers and recording artists of all-time, will take the stage at Pinnacle Bank Arena on Monday, July 14. Tickets will go on sale Monday, April 28 at 10 a.m. at Pinnacle Bank Arena Ticket Office and Ticketmaster.com. Tickets are limited to four persons.

The Out There tour, as always, features music from the most beloved catalog in popular music, as Paul performs songs spanning his entire career - as a solo artist, member of Wings and of course as a Beatle. The set list will also include material from Paul's most recent studio album NEW, a global hit upon its release last year.

The McCartney live experience is a once in a lifetime opportunity; in just three hours some of the greatest moments from the last 50 years of music are relived; music which for many has shaped the very soundtrack of their lives. The last decade has seen Paul and his band perform in a staggeringly impressive range of venues and locations, including outside the Coliseum in Rome, in Moscow's Red Square, Buckingham Palace, at the White House, a free show in Mexico to over 400,000 people, and even broadcast live into Space! Featuring Paul's band of the last 10+ years–Paul "Wix" Wickens (keyboards), Brian Ray (bass/guitar), Rusty Anderson (guitar) and Abe Laboriel Jr (drums)–the show never disappoints.

The tour also uses state of the art technology and production to ensure the entire audience has the best possible experience. With massive screens, lasers, fireworks, unique video content and, of course, the best songs in the world, a Paul McCartney show is so much more than just an ordinary concert. Paul's shows attract a multi generational audience from different backgrounds all brought together by his music.

Reserved Tickets: $29.50, $59.50, $89.50, $168, $253 (plus applicable fees)

Tickets will be available at Pinnacle Bank Arena Ticket Office, Ticketmaster.com, or charge by phone at 800-745-3000.

For special accommodations, please call 402.904.5600 no less than two weeks prior to event.

PERSHING CENTER

Click here to check out the upcoming events and concerts at Lincoln's historic Pershing Center.