April 11-12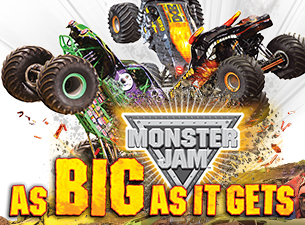 Description:
Monster Jam mixes racing, showmanship and the ultimate fan experience into one incredible, action packed live show. The twelve-feet-tall, ten-thousand-pound machines will bring you to your feet, racing and ripping up a custom-designed track full of obstacles to soar over — OR smash through. The 2014 touring season brings more Monster Jam excitement tailored perfectly for your family's budget, and these colorful, larger-than-life beasts are sure to capture the hearts of both young and old.

Advance tickets start at $20 for adults and $5 for children for all three Monster Jam events:

Friday, April 11 @ 7:30PM
Saturday, April 12 @ 2PM, Pit Party at 11:30 a.m. - 1:00 p.m.
Saturday, April 12 @ 7:30PM

Also available are $10 tickets for the Pit Party on Saturday from 11:30AM to 1PM, which will give fans the opportunity to get up close & personal with the massive trucks and their drivers. PLEASE NOTE: In order to attend the Pit Party, you must purchase a ticket to the 2:00 p.m. show along with a Pit Party Ticket.

For special accommodations, please call 402.904.5600 no less than two weeks prior to event.
PERSHING CENTER

Click here to check out the upcoming events and concerts at Lincoln's historic Pershing Center.